Making Differences:

Transforming Museums and Heritage in the 21st Century (2016–2022)
Making Differences focuses especially upon the changing role and potentials of museums and heritage in the production of difference and diversity. Informed by global developments and theorizing, it takes Berlin as its research lab for examining the dynamics and potentials of contemporary museum and heritage transformations. Funded by the €3.5 Million Alexander von Humboldt prize, with further support from the Humboldt-Universität, the Berlin Museum of Natural History and the SPK, it will run until the end of September 2020.
Rationale
Cultural diversity and difference raise some of the most pressing dilemmas in our contemporary – and future – world. Globalization – a label for a variety of processes – is used to describe the disappearance of cultural and linguistic diversity on the one hand, and the co-presence of greater diversity in the form of migrants and tourists on the other. Identity politics and post-colonialism promote recognition of difference and colonial legacies; and many States struggle over – and come to different temporary settlements on – how far cultural diversity should be acknowledged, ignored, integrated and/or celebrated. Similarly, there are questions and struggles over how pasts are publicly represented and even, insofar as this is possible, redressed.
Museums and heritage not only deal with social and cultural diversity in this sense, however, but also with so-called 'natural' diversity (e.g. 'bio-diversity'). Furthermore, they engage in differentiating activities, especially classification, that act to make identities and differences of multiple kinds. Of particular interest for Making Differences is how these may become interrelated through actual practice. For example, how might museological classifications into kinds of museums and collections influence how certain people or histories are represented? How might specific notions of bio-diversity inform those of cultural diversity, or vice-versa? By looking at a range of kinds of museums – including natural science as well as art and ethnography – the project aims to get critical traction on differences among differences as well as any traffic between them.
Museums offer exciting reflexive potential for examining and collaboratively exploring concepts and practices about difference.  Because the museum and heritage transformations in Berlin are informed by many contemporary and cutting-edge ideas, it is a highly productive site for reflexive theorizing. Analyzing how difference and diversity are being constituted in Berlin's ongoing museum and heritage transformations is of historical significance in itself and also offers a window through which to understand what is at stake in a range of forms of differentiation, and to examine the implications of strategies and conceptualizations involved. This not only concerns new spaces, styles and technologies of display but also the possibility to understand and use heritage in new ways – as part of forging new knowledge relationships, publics and futures.
Berlin as Lab
Making Differences is a multi-researcher ethnography of Berlin's contemporary transforming museum and heritage-scape. It examines ongoing developments in international, comparative perspective. Key current transformations in Berlin include major planned developments of the museums of the project partners, the Museum für Naturkunde (MfN) and the Stiftung Preussischer Kulturbesitz (SPK). The latter includes a new Museum of Islamic Art (MIK) and the Humboldt-Forum (HF), which will display objects from the Ethnological Museum, the Museum of Asian Art and from the Humboldt-Universität zu Berlin within a controversial 'new old' space, generally referred to as the Schloss and currently under construction, in the centre of Berlin, and due to open in 2019.
One ambition of the research project is to go 'behind the scenes' of the high-profile developments and to examine and analyze what goes on in practice and process. How are outcomes shaped, not only by plans and visions, and the mobilization of particular examples or histories, but also by unacknowledged assumptions, imaginaries, contingencies or politics?
The research is not limited to the high-profile sites but also explores more low-key, hidden or neglected forms of heritage-making. This includes perspectives of visitors and potential visitors and of different groups or communities.
Making Differences is commited to direct engagement with practice, process and players 'on the ground'. As well as study and analysis, this also includes ongoing reflexive participation in the developments – such as conceptual development, exhibition design or visitor research.
Who is ID 8470?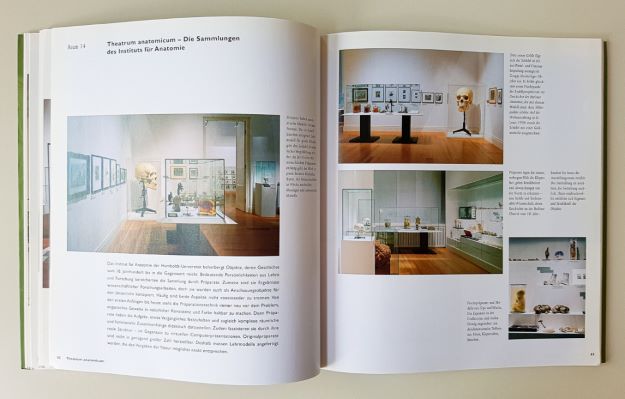 A spread from the catalogue of the exhibition: Theatrum naturae et artis / Theater der Natur und Kunst – Wunderkammern des Wissens, by the Humboldt-Universität zu Berlin, Gropius Bau, 2000
Who is ID 8470? is a collaboration between CARMAH and the Humboldt Laboratory at the Humboldt Forum, artistically directed by Tal Adler. An art installation in the exhibition of the Humboldt Laboratory asks visitors and professional communities to consider the ethical and political implications of exhibiting human remains in public settings like museums and university collections.
Who is ID 8470? is developed throughout the year leading to the opening of the Humboldt Laboratory's exhibition. It is based on the understanding that artistic-research can generate processes of new knowledge through the entire spectrum of the artistic production. The research-based artwork in this sense is not only seen as an end-product on display. It consists of research and artistic production processes, and relationships with a network of institutions and individuals that participate and contribute to these processes.
Who is ID 8470? revolves around four main elements: A multiple-narrative video sculpture, collaborative workshops, visitor engagement programme, and a commissioned provenance research.
Realizations and reception in the Humboldt Forum, Berlin
This is an exciting opportunity to conduct original research, leading to publication, as part of a lively international team in a leading Centre for museum and heritage research. It will focus on the (hopefully) newly opened Humboldt Forum in Berlin – a nationally and internationally significant and contested cultural development that has been the subject of considerable academic and public debate, especially with respect to its approach to colonialism and ethnographic collections, and to German Democratic Republic heritage.
Realizations and Reception is a sub-project of Making Differences. Transforming Museums and Heritage in the Twenty-first Century. Funded by the Alexander von Humboldt Foundation in an extension to the Making Differences project, Realizations and Reception will build on and expand research that has been conducted thus far to research aspects of the completed exhibitions in the Humboldt Forum and their reception. The overall project is concerned with how questions of difference and diversity are approached in museums and heritage, with a particular focus on how these are being transformed in light of postcolonial and decolonial critique, global and diasporic interrelationships, and new media possibilities. The research so far has been primarily ethnographic and has looked at a wide range of sites within Berlin in order to examine how such questions are addressed in different settings, including the extent to which there are shared or differing concepts and practices involved. Aspects of the Humboldt Forum have been explored in this work, including questions of which particular histories, collections and constituencies have been foreseen in the making-processes. There is also ongoing engagement in exhibition-making within the Humboldt Forum, especially the Humboldt Lab (Who is ID 8470?).
The completed opening exhibitions of the Humboldt Forum in 2020 and 2021 will allow investigation of, among other things, whether certain approaches work as anticipated, what happens as exhibits from the various participating organizations (including the Ethnological Museum, Museum of Asian Art, Humboldt-Universität and Berlin Exhibition among others) come together, and what visitors and communities of implication make of it. As with other research within Making Differences, the results should contribute to wider debates about the roles and workings of museums and heritage in the contemporary world, particularly with respect to how they tackle difference and diversity, and thus what might be done in the future.
The work on the subproject will be as part of a team, involving some researchers who were part of the previous phase of Making Differences. Collectively, we will refine the specific questions to be tackled and methods and work-plan to do so. Key areas of research will include how Germany's histories (especially those of the contested space that the Humboldt Forum occupies), including colonial and GDR, are figured through the completed space, which particular groups within the nation and beyond it are implicated in the resulting presentation, and who interrelates with it in which ways. Analysis of the exhibitions and visitor research are the two main anticipated components of work to be conducted by the new researchers in Realizations and Reception. If COVID-19 or other restrictions make physical access impossible, the research will be carried out in modified form using plans, texts, and interviews, together with online formats. In terms of methodology, it is anticipated that the work will be primarily qualitative, though some quantitative visitor research may also be undertaken. Although using the shorthand 'reception', we understand visitors and others interacting with the exhibitions as active meaning-makers whose engagement is not only in response to what is presented. Concurrently, classes for MA students related to the subproject will run, encouraging them to conduct relevant empirical research, supervised in part by project researchers.
In addition to jointly designing, conducting and analyzing the research, researchers will be expected to contribute to writing up the results in both report format and for publication. It is anticipated that a collective book will be produced.