Welcome to our Museum Lab!
Winter semester 2020/2021
Due to the global pandemic and heightened safety measures, all sessions of this winter semester's CARMAH Museum Lab will be held via Zoom. The sessions are open to practitioners, students, researchers and those working at the intersection of theory and practice. Every other week, invited guests present their ongoing research which inspire fruitful discussions.
Time: 1.30 – 3 pm (usually Wednesdays)
Location: Zoom Meeting
Passcode: No code required
Heritage knowledge: the production of silk in Korea and Burkina Faso
In this joint talk, we explore comparatively local notions of cultural heritage about silk production in Burkina Faso and South Korea. By focusing on local conceptions of heritage and tradition that are expressed through specific terms but also through practices, we examine aspects of the cultural significance of silks considered here as an 'active matter'. By 'active', we understand the agential properties and qualities of this insect-produced material that is shaped by humans into two textiles of prestige: the Korean traditional garment hanbok and the tuntun wrapper of the Marka-Dafing women of Burkina Faso. By drawing upon humans and animals' material relations in the collection of the material in the forests or the rearing of the animals and their cocoons in the domestic space and the making of textiles, we highlight the cultural significance of these precious materials in two distinctive societies and by emphasising the role of nature and culture, humans and non-humans in co-constructing this knowledge and practice-based form of heritage.
Nina Samuel and Maxime Le Calvé: The making of a virtual tour as digital fieldwork.
The making of a virtual tour as digital fieldwork. A multimodal inquiry on the transitional, transformative and leaky nature of the exhibition space at the Tieranatomisches Theatre (Berlin)
"TATour" is the title of a virtual exhibition and fieldwork we are currently conducting at the Tieranatomisches Theater in Berlin (Humboldt University). This collaborative inquiry serves as a preamble to the creation of a physical exhibition in a cultural space based in a former veterinary anatomical theatre, through which we aim at giving presence the different forms of life that inhabit this building and its memory. Constrained by the COVID crisis, we have invested our efforts in the creation of a digital tour that focuses on the visible and invisible activities that remain there, even when visitors can no longer access them. How did the exhibition space become a site for artistic-anthropological research on non-human habitat? This paper describes the creation process of this collective work and a unusual approach to doing fieldwork. We offer a reflection on the institutional constellation within which it is embedded and on the interaction between our disciplinary practices through inventiveness and imagination."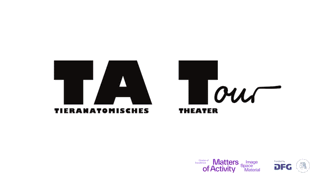 Maxime Le Calvé: Cerebrum Spectacular
Cerebrum Spectacular. Exhibiting neurosurgical imaging and sensing practices at the Humboldt Forum and at the Tieranatomisches Theater
Brain tumours are a rare pathology, and brain surgery is only a small niche of human activities. However, our subjectivities are strongly impacted by the findings of its medical experts. The daunting images that come out of their computers are exhibited in museums as pinnacles of interdisciplinary research, of technological advancement, and of the extension the modernist cartographic conquest to the intimacies of our nervous tissues. My current fieldwork at "Matters of Activity" aims at showing these spectacular activities in the making through multimodal ethnographical methods. The practices of neurosurgery provide revealing case studies to think about the relations between image and gesture, between the map and the territory, and between the museum and the operation room.
ARCHIVE – Museum Lab
Winter semester 2020/2021
Due to the global pandemic and heightened safety measures, all sessions of the 2020/21 winter semester's CARMAH Museum Lab were held via Zoom. The sessions were open to practitioners, students, researchers and those working at the intersection of theory and practice. Every other week, invited guests presented their ongoing research which inspired fruitful discussions.
Winter semester 2019/2020
Starting in the winter semester 19/20, CARMAH's Museum Lab was combined with our research meetings. The meetings were opened to practitioners, students, researchers and those working at the intersection of theory and practice. Each week, invited guests presented their ongoing research and inspired fruitful discussions.
Summer semester 2019
Thematic focus: Working on the peripheries of Museums
Museums are no stable institutions, but are constantly co-produced through connections to other people, institutions, networks and practices. During this semester's Museum Lab we are going to explore the peripheries of museums. What are they looking like? What kinds of connections emerge here? Who fosters or inhibits practices in them? What kinds of knowledges emerge? Where and how do such knowledges travel through museums? How are they translated? And where do they get stuck in dead ends?
The Museumslabor is open to researchers, practitioners and those working in the intersection of theory and practice.
In case of any questions, please contact Christine Gerbich or Chiara Garbelotto.
Winter Semester 2018/2019
During the semester's Museumslabor we are continuing our practice of joint exhibition visits and reflections, and invite people who wish to
present parts of their research to a professional audience.
Suggestions about exhibitions to visit or people to invite will be
discussed during our first session on October 25th – join in!
Summer Semester 2018
The Museumlabor's motto was 'Participate!'
We critically reflected about the concept of participation: How has the concept been theorized? What kinds of participation do we encounter in museums in Berlin in 2018? Can all kinds of interaction in museums be described as 'participation' – or do we need to expand our vocabulary? How is the concept politically mobilized? What assumptions are being made about 'the public', and who is actually participating? Is it just people? Or can objects participate, too?
Meetings took place biweekly.
Winter Semester 2017/2018
How is knowledge about the past of Eastern and Western Germany and other former socialist states constructed in Berlin's museums and heritage sites? Throughout this semester, we will take up the IfEE-Institutskolloquium's theme and engage with these sites to analyze them with regard to this question.
During this brown-bag-lunch-session we are going to reflect and discuss experiences collected at the DDR-Museum. Don't worry if you haven't been part of the experience – you will have the chance to speeddate some of its visitors.
Drinks included, please bring your own snacks.
Join in!
ARCHIVE – Research Meetings
Summer Semester 2019
03.07.2019
Damani Partridge (University of Michigan)
Afonso Dias Ramos (University College London) 
26.06.2019
Robin Ostow (Wilfrid Laurier University):
Decolonization and Musealizing Human Rights on the Canadian Prairie.
19.06.2019
Merve Reyhan Kayikci (University of Granada):
Islam and Museums: Attraction and Repulsion.
Christine Gerbich (Humboldt-Universität zu Berlin, CARMAH):
Tamam – the agency of objects for negotiating difference. 
Moderation: Katarzyna Puzon (Humboldt-Universität zu Berlin, CARMAH)
12.06.2019
Jonathan Bach (The New School, New York):
What Remains: Encountering Socialist and Colonial Pasts in Germany. 
05.06.2019
Diana Young (University of Queensland) and Jing Zhu (University of Warwick) giving inputs on: How does public discourse on diversity differ in different nation contexts and how do museums and heritage relate to them? 
29.05.2019
Tal Adler (Humboldt-Universität zu Berlin, CARMAH) and Anna Szöke (Humboldt-Universität zu Berlin, CARMAH) with Fred von Bose (Hermann von Helmholtz-Zentrum für Kulturtechnik, Humboldt-Labor im Humboldt Forum):
From the TRACES project to new artistic collaborations with the Humboldt Labor.