Challenging Populist Truth-Making in Europe (CHAPTER):

The Role of Museums in a Digital 'Post-Truth' European Society
The project "Challenging Populist Truth-Making in Europe: The Role of Museums in a Digital 'Post-Truth' European Society (CHAPTER)", funded by the VolkswagenStiftung, will develop approaches and best practice examples to support museums in challenging the growing influence of populist discourse in Europe through digital innovation. The project is a collaboration of researchers in Berlin (project leaders: Christoph Bareither and Sharon Macdonald), London (Haidy Geismar) and Krakow (Roma Sendyka) and museums in the respective regions, supported through a review board with members from other European countries.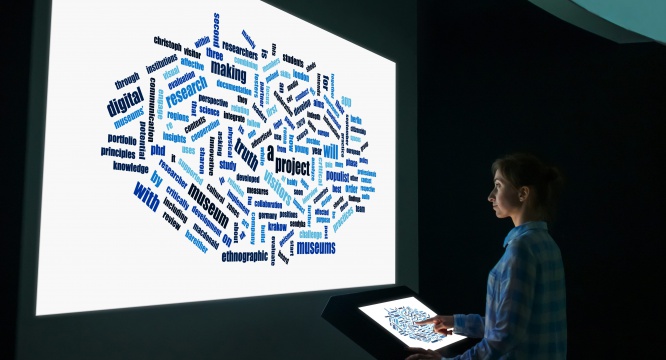 In the first phase, the project team will study the impact of populist truth-making on museums and their visitors in Germany, the UK and Poland, bringing together an explorative interview study with in-depth ethnographic research within museums' physical and digital spaces. Here the research interest focusses on the affective dimension of populist debates, asking how "post-truth" and "fake news" constitute practices of "emotional truth-making" that affect museums both explicitly or implicitly. While the researchers will focus mainly on the perspective of museum professionals and stakeholders in the first year, they will conduct ethnographic visitor research in the second, asking for how visitors experience the "affective contact zones" of museums in relation to post-truth practices and emotional truth-making. In the second phase, starting in year three, the project will build upon the research findings in order to develop and implement a museum app (for smartphones and tablets) in cooperation with our project partner Fluxguide (Vienna) and three partner museums in Germany, Poland and the UK. The purpose of this app is to challenge young visitors (18-21 years) to critically engage in practices of populist truth-making. Our goal is not only to co-develop and implement this app, but to accompany, analyze and evaluate its use in order to gain critical knowledge about the potential of digital media in museum contexts on a much broader level. Thus, the key aim of the project is to bring together ethnographic research and digital innovation in order to develop best practices that will support museums and other cultural institutions to challenge populist debates and to foster a democratic public discourse within Europe.
The research findings of the project will be published through collaboratively written open access papers in high-ranking peer-reviewed journals, as well as through the three PhD's individual dissertations and the habilitation of the postdoc researcher. Based upon these findings, the final project results will be summarized in an elaborate best practice portfolio, including an audio-visual documentation of the project, a policy paper and a set of principles for the effective as well as meaningful design of digital museum apps that foster the critical citizenship skills of young visitors. This way, the project will make a long-lasting contribution to the endeavor of challenging practices of populist truth-making in Europe.
Three open positions for PhD students / research fellows at HU Berlin, UCL London and JU Krakow will be advertised in the next weeks. Job advertisements at UCL and HU Berlin are already open (see below), the one at JU Krakow will follow shortly. Please note the different requirements for and profiles of the individual PhD positions.
Open Post-Doc Position (full time) HU Berlin
In the project "Challenging Populist Truth-Making in Europe: The Role of Museums in a Digital 'Post-Truth' European Society" (project leaders: Prof. Dr. Christoph Bareither and Prof. Dr. Sharon Macdonald, funded by the Volkswagen Foundation, http://www.carmah.berlin/chapter/), the position of an academic staff member (Post-Doc, 100% TVL E13, 48 months) is to be filled. The position is integrated into the Centre for Anthropological Research on Museums and Heritage (CARMAH) at the Institute for European Ethnology at Humboldt-Universität zu Berlin and will play a leading role within an international team of researchers at the HU Berlin, the University College London (UCL) and the Jagiellonian University Krakow (JU). The successful applicant will coordinate the work of three PhD students at the three locations in conducting a multi-level project: 1) Ethnographic research (online and offline) including an interview study with museum experts on the impact of populist truth-making on museums in the three partner countries. 2) An ethnographic visitor study with young adults in selected museums in each country. 3) The co-design of concepts and contents for a digital museum app in cooperation with a professional software development company; the app aims at a critical engagement with processes of truth-making through young visitors – a multimedia best practice portfolio will ensure the successful integration of the project results in the field of museums and heritage. Beyond the coordinating function the successful applicant will develop an individual research endeavour within the project, focussing on its political and digital dimensions.
Position Profile:
Academic work in the above-mentioned research project in a leading role as part of an international research team; administrative tasks, especially coordinating role in the cooperation with a professional software company; opportunity for academic qualification.
Requirements:
Requirements are: a PHD in European Ethnology / Cultural Anthropology and extensive experience in ethnographic research; alternatively, a PhD in Museum Studies, Media Studies or Political Science, provided that ethnographic research has been a key element of the doctoral dissertation; very good written and spoken German and English skills, as well as a pronounced ability to work as part of a research team.
Advantageous qualifications are: knowledge in the field of Media and Digital Anthropology, of Museum and Heritage Studies, the Anthropology of Politics or populism more broadly; previous experience with qualitative data analysis software; experience in the area of software development or content management, as well as curatorial skills (layout, image processing, exhibitions); experience in educational work, particularly in regard to young people (e.g. through teaching formats, social engagement, etc.).
Applications:
Please send your application (including cover letter, CV, certificates), and quoting the reference number DR/111/20, to Humboldt-Universität zu Berlin, Faculty of Arts and Humanities, Department of European Ethnology, Prof. Dr. Christoph Bareither, Unter den Linden 6, 10099 Berlin, Germany or preferably in electronic form as one PDF-file to christoph.bareither@hu-berlin.de. The deadline for applications is July 15, 2020.
HU is seeking to increase the proportion of women in research and teaching, and specifically encourages qualified female scholars to apply. Severely disabled applicants with equivalent qualifications will be given preferential consideration. People with an immigration background are specifically encouraged to apply. Since we will not return your documents, please submit copies in the application only.
Please visit our website www.hu-berlin.de/stellenangebote, which gives you access to the legally binding German version.
Open PhD position JU Krakow
For full advertisement see: https://human.phd.uj.edu.pl/en_GB/stypendium-do-interdyscyplinarnego-programu-doktorskiego-w-grancie-dr-hab.-romy-sendyki-prof.-uj
Admissions for one candidate in the project supervised by prof. Roma Sendyka in the interdisciplinary program start July 31, 2020. Here you can find admissions calendar. Description of the project and candidate's requirements are to be found here, additional criteria of admissions are described here. The template of research project  plan and a sample essay form can be found here, the template of the letter of recommendation for the candidate by a senior academic stuff member can be found here. Information on how to prepare documents before uploading them in the AOS system you can find here (regular admission criteria need to be met also by the candidates applying for scholarships funded from external funds).  Important note! The candidates applying in the special track need to meet the criteria defined by the Senate of the Jagiellonian University. The detailed information is available here.
Open Position Student Assistant at HU Berlin
We are currently looking for a student assistant for the project CHAPTER to support the international research team in all aspects of the project: 40 hours per month, starting September/October 2020, for up-to 36 months (can be shorter) + option for 12 months extension. We are looking for a highly qualified student with a background in qualitative/ethnographic research and a strong interest in museum and heritage studies as well as media and digital anthropology. Deadline for applications via Email: July 13th 2020.
If you have questions, please contact: christoph.bareither@hu-berlin.de
For official advertisement in German see: https://www.euroethno.hu-berlin.de/de/perspektiven/stellenangebote/studentische-hilfskraft-im-vw-projekt-challenging-populist-truth-making-in-europe